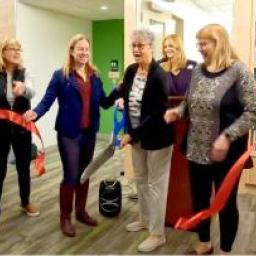 From the My Library Is ... Blog:
The Lisle Library District (LLD) was aglow from sunflowers and the LiteZilla on Saturday, April 22. After a year-long two-phased renovation, the Lisle Library District celebrated with a Grand Opening that attracted about 800 attendees, who enjoyed soft pretzels from Gnarly Knots and sunflower lollipops.
Sunflower growing kits were a hit and fit the theme of "Grow with us!"  One lucky family even won a children's book basket valued at $175, which was donated by Penworthy Publishers.